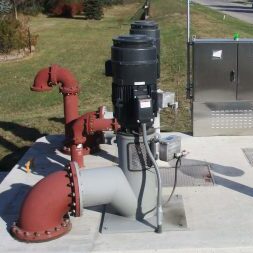 Get Your Sewer Lift Back in Action
Chad King's Plumbing is here to provide your property with quality sewer lift station repair in Hammond, LA so that you can have your sewer lift back in action. Have your landscape protected against wastewater and help the distribution of it to the proper areas. Our team of plumbers is trained and certified and handles each job with professionalism and care. We've got the tools and equipment to ensure that your sewer lift system is fixed properly for better performance. To get a free estimate and inspection call our team at (985) 351-2083 today.
How Sewer Lift Stations Operate
A sewer lift station is used in low areas of land where the depth of pipes underground are excessive, or where pump station or lift stations are placed. A sewer lift station lifts wastewater to a higher point so that it can flow naturally down or so that it can be pumped under pressure directly to the treatment plant. Expect to have your sewer lift station last 15-25 years with capacity pumps needing to be rebuilt more frequently. By routinely maintaining lift stations you can lower the chance of equipment failures or repairs. In the case where you have lift station failure, whether it's from a power outage, the force main breaks, or pump failure you'll risk wastewater collecting in the lift station wet well and back up into the collection system. This can become a bad source of odors and cause issues to the overall plumbing system. Make sure to get help from a professional plumber when you notice any problems with your sewer lift station.
If you'd like to learn more about sewer lift station repair in Hammond, LA contact our team of professional plumbers for assistance.
Contact Our Professional Plumbers
Chad King's Plumbing is here to provide you with professional sewer lift station repair in Hammond, LA. Have your plumbing and sewer line in better conditions with our help. We provide a range of services like sump pump repair to help with issues where wastewater needs to be controlled. Have your property inspected to see what course of action would be best for your property's specifications. You'll have a more operable plumbing system by the time we're through. Call us at (985) 351-2083 to get started.